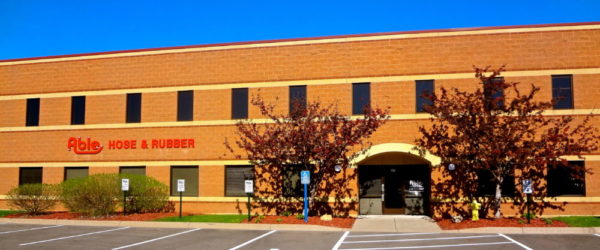 Originally founded by Ron Weidell in 1983, Able Hose and Rubber quickly earned a reputation as an honest and hard-working supplier of industrial hose and fittings. Able Hose and Rubber relocated to their current location at 2340 West County Road C Suite 150 in Roseville Minnesota to improve production and stocking capabilities. Able is committed to meeting our customers needs for industrial and hydraulic hose products. As a company Able is committed to continuous improvement and recognizes our goal as operational and customer service excellence.
The employees of Able Hose and Rubber are committed to personal improvement in product knowledge to provide world-class customer service. Able is committed to immediate customer response and best in class products to keep customers up and running.
Able's main focus for 36 years was primarily industrial hose products. Hydraulics will now be a strong platform that will allow Able to fill a wider range of customer's needs.
Able Hose and Rubber value
Best in class service at competitive prices
Best in class products accurately assembled for fast turnaround
Industry experts that provide technical problem solving
Employees that care about our customers
Core line of products

Hydraulic Hose
Industrial Hose
Metal Hose
PTFE Hose
Composite Hose
Ducting
Expansion Joints
We work hard to keep you running! Weather that is compressor hose for sprinkler blow outs or an engineered dredge hose for municipal water applications we are excited to help you with your hose needs
Singer Industrial is a group of value-added distributors in the industrial rubber products industry. We have 39 locations in the U.S. that serve a diverse market portfolio including petrochemical, oil/gas, food & beverage, OE equipment, marine, MRO, construction and rental supply.
Our extensive product offering includes industrial hoses, hydraulic hoses, metal hoses, composite hoses, conveyor belt, and rubber, metallic & non-asbestos gaskets as well as industrial supplies. We also offer value-added services including on-site hose and conveyor belt inspections, installations and repair, hose testing services, engineering/consulting services and training.
Able Hose is a platform business unit of Singer Industrial who focuses on:
Petroleum Hose
Food and Beverage Hose
Industrial Hose
Construction

We are proud to offer our exclusive OnGuard™ Hose Management Services and asset tracking program. Coupled with our world-class hose fabrication, we are able to deliver the most consistent, reliable and safe hose assemblies in the industry.
Learn more at www.hosesafety.com.

Able Hose has the employees with the experience necessary to promptly respond to your needs!
Able Hose provides solutions to customers needs by distributing and fabricating specialty components that convey, connect, and seal industrial applications in process systems.
We create person to person relationships and programs tailored to address the needs of a customer to lower procurement costs, maximize productivity, create a safer work environment and/or manufacture a safer product.